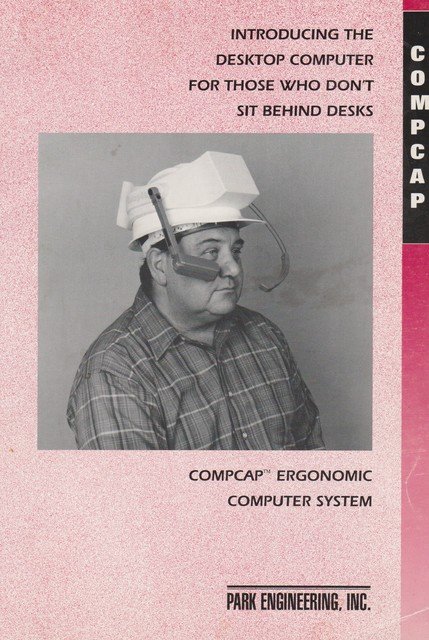 In the early nineties, I developed the first IBM compatible wearable computer, The Hip PC. My wearable featured a one-handed chord keyboard, based on the British Microwriter portable computer.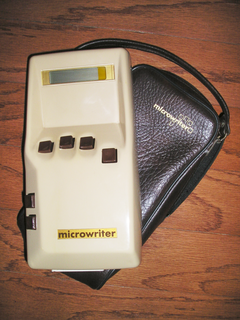 For my wearable, I shrunk the chorder significantly, and tried to make the whole thing more cool than the Compcap. Here I am in the Village Voice in 1994: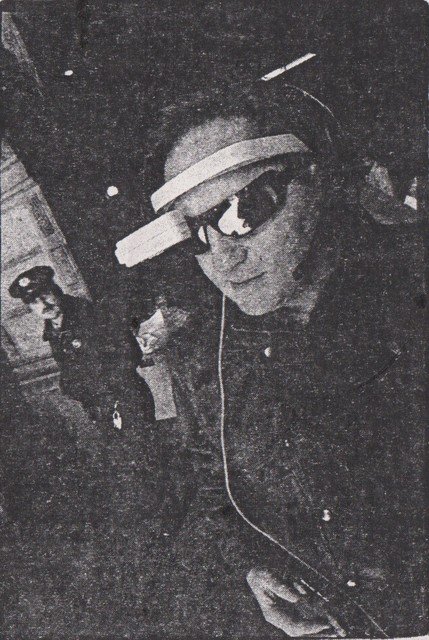 The thing about the CompCap and Park Engineering is that their role in the early history of wearable computing seems to be all but forgotten, even though they helped me build some of my earlier versions, including the one I built for Thad Starner. Marvin Minsky invited me to speak and demo at MIT. I spent the night at his book and genius filled house (his wife and kids are all super smart) and I left him a book "Great Mambo Chicken and the Transhuman Condition" by Ed Regis, which I believe was his introduction to Cryonics. So I might have saved his life as it is likely, but not definite, that he was recently cryopreserved upon legal death (but that's another story). Anyway, Thad had been thinking and working a bit on a wearable, before he met me, but I motivated him and he hired me to put together a system for him. He has gone on to making it an academic career: http://www.cc.gatech.edu/~thad/
and he has a gig with the Google Glass project.
This post was created by my alter ego, @brindleswan back in 2016 and reposted here with permission.
I always think of the guy wearing the CompCap as "Bud". I wonder who he is or was?